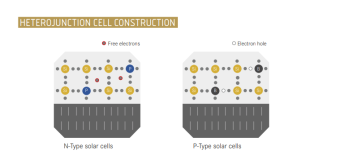 The company Luxor Solar is a certified manufacturer of solar modules. They enriched their portfolio with heterojunction cell technology and high-end solar modules.
The heterojunction technology impresses with several advantages compared to current cell technologies. HJT is more efficient, more durable and guarantees more yield per area, in addition to more yield throughout the lifetime of the modules.
Heterojunction technology is based on an N-doped crystalline silicon wafer coated with very thin amorphous crystalline layers. Photovoltaic cells defer in their layer structure in negatively charged N-type and positively charged P-type cells.

If the base layer is doped with boron, it is a P-type cell. It has one electron less than silicon. That creates an electrician hole, and the positive charge carriers predominate. With N-type cells, the base layer is doped with phosphorus. It has one more electron than silicon, which creates free electrons.
This cell structure is responsible for the efficiency advantage over conventional cell technologies. These free electrons enable the higher efficiency of the N-type cells. They are responsible for extremely low power losses and prevent phenomena such as PID and LID.
More:
Heterojunction cells combine the advantages of two technologies. The crystalline N-type-based cell core allows more direct sunlight to be converted into electricity. The amorphous cell layers also ensure better wreak light behavior and significantly higher resistance to high temperatures.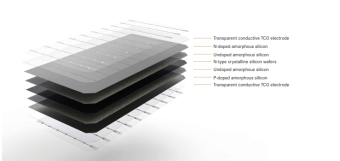 Heterojunction cells achieve optimal bifaciality thanks to their symmetrical structure. Indirect light is absorbed by the solar cells on both sides. The bifaciality factor of Heterojunction solar modules is up to 95 per cent.
By using Luxor Solar Heterojunction solar modules, you can efficiently reduce your BOS costs. Compared to conventional solar modules, HJT modules generate +3 per cent more power and a further +8 per cent more yield over 30 years on the same large area.
The advantages of the Luxor ECO LINE HJT GG BIF series are several. They are high-class solar modules with an extra class for safety and environmentally conscious customers who appreciate outstanding quality.
Source: Luxor Solar