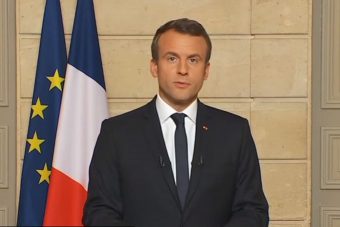 Where U.S. president Donald Trump stands on climate change is no secret, and his administration has already put into effect a number of efforts that clearly demonstrate this. Now, perhaps the biggest blow to climate change efforts is about to unfold, as new reports surface about president Trump's plans to back out of the historic Paris Climate Agreement.
According to the New York Times, three officials who know about the decision have confirmed that President Trump indeed plans to abandon the 2015 climate agreement that spurred many of the world's nations to implement stricter measures and goals to fight climate change. In a tweet posted just today, President Trump said he will be announcing his decision in the coming days.
Newly-elected French president Emmanuel Macron had something to say about that decision, however. In a video posted on Facebook back in February, almost a month before he was elected, Macron expressed sympathy for U.S. climate experts.
President Macron offered an alternative for climate scientists working in the U.S.
– Please, come to France. You are welcome. We want people working on climate change, energy, renewables, and new technology. France is your nation – Macron said in the video.
Canada has also made similar offers that that time. Backing out of the Paris Climate Agreements, however, is an even more serious matter.
While the U.S. is just one of the 195 nations that signed the Paris Agreement, it remains to be the second largest contributor to greenhouse gasses. Reversing on its commitment to the climate deal would have serious consequences on the environment, as well as to the policies of other countries.
 – The actions of the United States are bound to have a ripple effect in other emerging economies that are just getting serious about climate change, such as India, the Philippines, Malaysia and Indonesia – Michael Oppenheimer, member of the UN's Intergovernmental Panel on Climate Change, told the New York Times.
Clearly, fighting climate change is a global effort, as it takes the commitment of the rest of the world to reduce humanity's carbon dioxide emissions. If the world's largest economy to back out of such a fight, it could seriously push things back.
Source: futurism.com