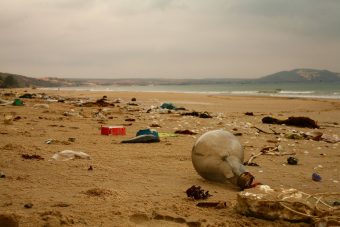 My name is Nathalie Wamja and I am a Greenpeace volunteer based in Douala, Cameroon. I would like to tell you how plastic pollution is wreaking havoc in my community, and causing a lot of danger for the people in my community.
There are recurring floods in my city, Douala. Every year during the rainy season, we experience flooding of houses and shops, as well as pavements. All this affects the quality of water and our food, and has ruined many people's lives as they lose their homes, livelihoods and even family members.
I wanted to understand why there were so many floods in Douala. I also wanted to know why the quality of our food has changed over the years. So I started to look for answers. And what I found by observing the ditches, drains and any place where water stagnated was the enormous quantity of plastic waste at any given point. Plastic waste was preventing water from circulating and draining off of our streets.
I was very shocked at the extent of the problem. But, how dependent we have become on single-use plastic in our daily lives made me understand how the problem occurred. If you walk around my neighbourhood, you will see plastic bottles flooding our gutters and plastic packaging used freely in our markets, even though they have been prohibited from importation.
Knowing how destructive plastic has been in my city has prompted me to make everyday a "ZERO plastic" day. I refuse single-use plastic and do whatever I can do to inspire others to do the same: suggesting tips to live plastic-free, and if possible present alternative packaging solutions like reusable bags.
You can read the whole article HERE.
Source: Greenpeace