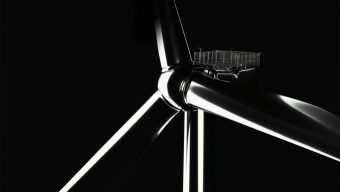 MHI Vestas Offshore Wind has unveiled the next iteration in its V164 wind turbine series, a 9.5 megawatt turbine that is larger than the giant London Eye ferris wheel.
Only four months after the company unveiled its 9 megawatt (MW) wind turbine, MHI Vestas (the resulting collaboration between parent companies Mitsubishi Heavy Industries and Vestas Wind Systems) unveiled the latest V164 wind turbine, the V164-9.5 MW. This currently ranks as the "most powerful serially-produced wind turbine in the world," according to MHI Vestas, with massive 80-meter blades that result in a swept area of 21,124 meters-squared, larger than the London Eye.
One V164-9.5 MW wind turbine alone could power 8,300 UK homes.
"As a leader in the offshore wind industry, we are committed to lowering the cost of energy through innovative turbine technology," said Jens Tommerup, CEO of MHI Vestas. "The launch of our V164-9.5 MW turbine is a testament to that leadership and to the ingenuity of our engineers and technicians. The V164-9.5 MW is built on the industry-leading V164 platform, the most powerful platform in operation. Just one single turbine is now capable of powering more than 8,300 UK homes."
MHI Vestas' V164-8 MW wind turbines are already in operation at the 258 MW Burbo Bank Extension offshore wind farm, located off the coast of Liverpool, in England, and will be installed at the 370 MW Norther offshore wind power plant in Belgium.
"I'm very proud of our team for their hard work in launching our next generation turbine, the V164-9.5 MW," added Torben Hvid Larsen, Chief Technology Officer at MHI Vestas. "With only minimal design changes, including a redesigned gearbox and cooling system upgrades, this turbine continues the legacy of the proven V164 platform and is available now to all MHI Vestas customers."
Source: cleantechnica.com