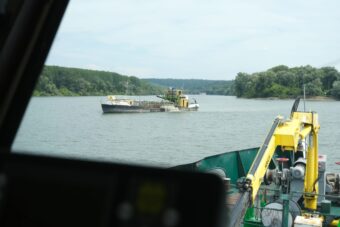 Minister of Construction, Transport and Infrastructure Tomislav Momirovic visited the intervention dredging works on the section near Baric on the Sava river, which are carried out in order to ensure the prescribed depth of the waterways in a period of extremely low water level.
Momirovic explained that the Ministry is performing the intervention dredging works in order to provide the navigability of rivers to the main users of river traffic, which are the largest industries – construction, chemical and oil industries and to agriculture.
According to him, activities are being undertaken on the Sava and Danube, our main water corridors, in order to further increase efficiency and speed up navigation, but also to ensure a stable supply of the market with coal, oil and petroleum products.
We want to see the approach we are taking in Serbia in other Danube countries too, because the results of our efforts and works will have a significantly limited effect if other countries do not show the same level of proactivity, said Momirovic.
In this sense, he announced that he will have a meeting with his Bulgarian counterpart, to whom he will propose to consider absolutely all options that will make the Danube navigable, because this is of great importance for Serbia.
In addition to the Baric sector, the Ministry is performing the intervention dredging works at two more sections on the Danube, near Cortanovci and Futog.