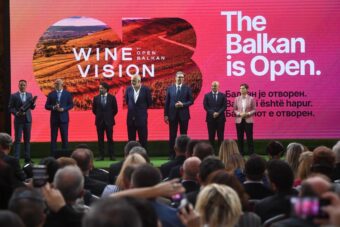 President of the Republic of Serbia Aleksandar Vucic said, opening the Summit of Leaders within the "Open Balkan" initiative, that the success of this project depends on the extent to which member countries of this initiative will manage to ensure their good economic future, but also to consolidate peace and stability in the region.
Vucic voiced the hope that this initiative will contribute to further economic strengthening and connection, but also provide the opportunity for us all to speak with one voice when it comes to key issues of interest for all countries of the region.
He pointed out that the establishment of a green corridor for the transportation of foodstuffs at border crossings led to a 17 percent increase in trade in this sector, and said that the competent authorities will continue their efforts to reduce waiting times for goods and passengers at border crossings.
The President also expressed hope that the implementation of the agreed documents will be even more successful, stating that the documents that will be signed today are the result of our determination to reach an even higher level of cooperation.
Vucic voiced his satisfaction that the three countries organised the International Wine Fair, which showed that they can hold such an important event at the world level, bringing most of their wine companies and promoting the capital cities and our countries.
Albanian Prime Minister Edi Rama announced that the leaders of the "Open Balkans" member countries will seriously consider inviting other countries important for our region, such as Greece, Italy, Turkey and Hungary, to this regional initiative.
With this initiative, we sent out a clear message to everyone that the first choice of all of us is peace, to work for our peoples. Of course, it doesn't solve all our problems, it doesn't make the issues we disagree on any different, but this is the right way, Rama concluded.
Prime Minister of North Macedonia Dimitar Kovacevski assessed that with the aforementioned initiative, North Macedonia, Albania and Serbia took a key step at a key time.
We have gathered to promote regional cooperation on the way to the European Union. Together, we are committed to facilitating the free movement of people, goods, and services. We have built neighbourly relations and trust between friendly countries, he underlined.