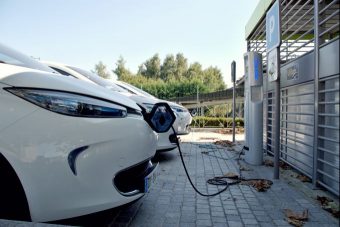 The Renault-Nissan Alliance, world leader in zero-emission mobility, will provide a fleet of 50 all-electric vehicles as the official passenger-car provider for the United Nations' COP22 Climate Conference in Marrakech, Morocco. The fully electric fleet will shuttle delegates.
More than 25,000 participants from 195 countries are expected to attend the annual climate summit Nov. 7-18. It marks the second time the United Nations will use a zero-emission shuttle fleet in support of public transport at one of its major conferences.
The COP22 fleet will feature the Renault ZOE subcompact car, the Nissan LEAF compact car and the seven-seat Nissan e-NV200 van. The vehicles will be available to shuttle delegates 24 hours, seven days a week to key venues at the conference, as a complement to public transportation.
The Alliance will also provide a network of more than 20 accelerated and standard charging stations at strategic locations. The accelerated charging stations will be able to charge the EVs from 0 to 80 percent in about one hour.
The Renault-Nissan Alliance is the global leader in zero-emission vehicles. With six models, it has already sold more than 360,000 electric vehicles worldwide. Nissan LEAF, launched in 2010, remains the industry's best-selling EV. Renault ZOE is the best-performing EV in Europe. The Alliance has sold about half of the electric vehicles on the road globally today including the Renault Twizy two-seat, urban commuter vehicle, and the Nissan e-NV200 van, which has been on sale in Europe and Japan since 2014.
In addition, the Renault-Nissan's Tangier, Morocco, plant is designed to move towards "zero CO2" emissions through the use of renewable resources, for thermal energy produced on site, as well as its purchased electricity. The plant began operations in 2012, and its approach remains unique in the automobile industry.
Source: prnewswire.com