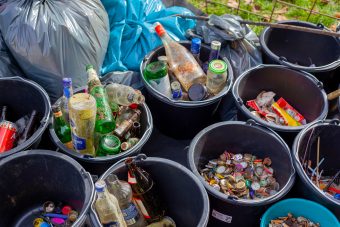 In Chiang Rai, Thailand, a city perched on the banks of the Mekong River, a group of some 90 residents and university students came together to pick up trash on 19  September.
Like millions of others, they were marking World Cleanup Day, an annual event that encourages communities to tidy up litter from rivers, beaches, cities and even the seafloor. But the Chiang Rai event was a little different from most others.
The waste collected at this clean-up was not only destined for a proper disposal facility, it was also earmarked for a database. Volunteers noted the type and location of waste they found during the cleanup, which was organized by the United Nations Environment Programme (UNEP) and Trash Hero Chiang Rai, a conservation group.
"Our goal is to have a scientific understanding for how plastic gets into rivers, and eventually, into the ocean," said Kakuko Nagatani-Yoshida, UNEP's Regional Coordinator for Chemicals, Waste and Air Quality in Asia and the Pacific. "With this knowledge, we can recommend policies to governments and help target behavioural change in a more effective way."
Rivers deposit millions of tons of plastic into the world's oceans every year. Up to 95 per cent of that pollution comes from only 10 waterways, eight of which are in Asia.
Scientists know little about when and where plastic waste enters these river systems. The first phase of the CounterMEASURE project, completed in May of 2019, used novel technologies, like drones and machine learning, to identify the sources of plastic pollution in the Mekong and Ganges rivers. Among other findings, the project determined that the type and quantity of plastic pollution varied along the length of the river. In Chiang Rai, for example, flowerpots comprised a large proportion of the plastic waste due to the locality's flower festival.
A second phase, now underway, is bringing the techniques and know-how to other countries, including Sri Lanka and Myanmar. Project leaders will also launch public awareness campaigns in the Mekong and Ganges regions to drive down plastic pollution.
The cleanup in Chiang Rai provided an opportunity to gather data while engaging the local community in citizen science, said Panate Manomaivibool, the Head of the Circular Economy for Waste-free Thailand Research Center at Mae Fah Luang University.
"It does not only help people to see the problem firsthand but also enables them to see how they can be part of the solution," said Manomaivibool, who helped organize the cleanup. "We have a long way to go to fix the plastic pollution problem and communities need to  be part of that."
Volunteers collected 39 bags of waste, weighing over 90 kilograms. Meanwhile, the Geoinformatics Center (GIC) at the Asian Institute of Technology, a CounterMEASURE partner, conducted a drone survey to augment the data. The GIC team also trained cleanup crews to use a waste survey app designed for the CounterMEASURE project in order to amass further data after the event.
"What better way to gather the data we need than by engaging the communities who stand to benefit from the project," said Nagatani-Yoshida. "These cleanups help beautify the area, but by contributing data to the project, the benefits are amplified many times over."
Source: UNEP