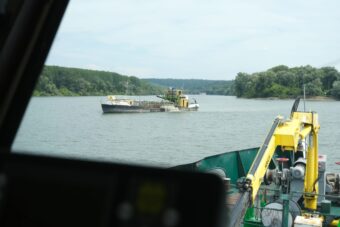 Minister of Construction, Transport and Infrastructure Tomislav Momirovic said in Sofia that the government of Bulgaria accepted the help offered by Serbia in the form of machines, which will carry out the intervention dredging works on the Danube as early as next week.
After a meeting with Deputy Prime Minister and Minister of Transport, Information Technologies and Communications of Bulgaria Hristo Aleksiev, Momirovic stated that an agreement has been reached on the formation of a working group that will respond to all the challenges of a strategic nature that are ahead of us, due to the wartime circumstances in which Europe found itself, but also the energy crisis.
The Danube is our common highway and is of strategic importance for both countries, Momirovic pointed out, expressing his gratitude to Aleksiev for showing his willingness to give priority to our cargo traffic on their railway transport network, which will supply Serbia with coal.
He pointed out that we manage to ensure the security of coal supply from the rivers for our electricity industry, and he expressed the expectation that in this sense the problem on the Danube in Bulgaria will soon be regulated.
The two officials also discussed the future cooperation between Serbia and Bulgaria in the field of transport, as well as the current activities and plans for the improvement of infrastructure on the railway Corridor 10 and the waterway between the two countries.
Aleksiev said that the started projects will be successfully implemented and that the two sides will work together on future cooperation in the field of river and railway transport.