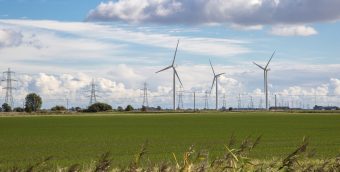 Serbia's MK Fintel Wind, a joint venture of Serbian vertically integrated conglomerate MK Group and Italy's Fintel Energia Group, said on Wednesday it has started the construction of its third wind farm and expects to complete its first phase by the end of 2018.
The company plans to invest 124 million euro ($139.6 million) in the first phase of the construction of the wind farm, named Kosava, and 100 million euro in the second stage of development of the facility, MK Fintel Wind said in a statement.
MK Fintel Wind will install 20 wind turbines, with a combined capacity of 69 MW, under the first construction phase, while additional 19 units will be installed during the second development stage, the company's CEO Tiziano Giovanetti, said during the official ceremony for the start of works.
Serbia has a total of 483 MW of wind power capacity under construction currently, but Kosava is the biggest project that enters into the building phase, Serbia's energy minister Aleksandar Antic said.
MK Fintel Wind carries out the project with the financial support of Serbian lender AIK Banka, the company noted.
Last month, MK Fintel Wind said it aims to raise 60 million euro through an initial public offering (IPO) on the Belgrade Stock Exchange that will be invested in the construction of the 117 MW Kosava wind farm, located near Vrsac, in northern Serbia.
MK Fintel Wind, a 46/54 joint venture between MK Group and Fintel Energia Group, was set up in 2008 and already operates two wind farm in Serbia, with a combined installed capacity of 16.5 MW.
Source: seenews.com