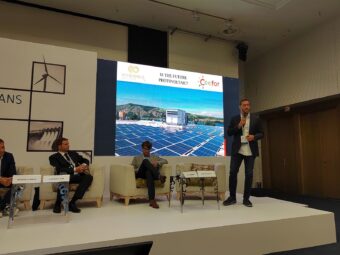 Solar energy, green hydrogen, the hydropower sector and decarbonization are the topics of discussion on the second day of the Conference Energy Week Western Balkans organized by the British company Invest In Network, with the support of the Montenegrin Investment Agency and the Department for International Trade of the United Kingdom.
The participants of yesterday's panels are eminent regional names in the energy field and representatives of large European investment funds.
At a time when of a major energy crisis and a severe electricity shortage, the panel on "Solar energy and batteries for energy storage" attracted a lot of attention from the participants.
Evan Rice, UGT Renewables, is an expert in energy storage systems. In his presentation, he paid special attention to energy storage systems, their potential and how much they will be used in the future.
Dimitris Galanos, Sungrow, spoke about solving the challenges investors face when building solar power plants in the Balkans.
Nemanja Mikać, ElevenES, spoke about LFP batteries, which will be produced in the factory in Subotica, the first large factory of its kind in Europe. He spoke about the advantages of using these batteries and how far the process of making them is progressing, and that it is necessary for everyone to cooperate when it comes to progress in this field.
Fabian Kuhn, Fichtner, talked about solar projects and energy storage batteries. As he pointed out, more and more energy will require more and more storage space.
Till Barmeier, GIZ, spoke about the concept of the prosumer in Serbia. He also mentioned the Law on the Use of Renewable Energy Sources, which was adopted last year. Thanks to the new legislative framework, households and industries can now produce electricity for their own needs and deliver the surplus to the grid.
Miloš Kostić, MT-KOMEX, spoke about the future of photovoltaic systems in Serbia. As he pointed out, he realized a long time ago that the price of electricity will increase year after year and that we should become energy independent as soon as possible. In addition to gaining independence from electricity suppliers, using solar energy reduces carbon dioxide emissions and contributes to raising environmental protection awareness.
"Green energy must be the future," Kostić noted.
He added that the European Union aims to reach 400 GW of solar energy by 2025 and almost 740 GW by 2030. The plan is for the EU to obtain at least 45 percent of its energy from renewable sources by 2030.
Kostić pointed out that the company MT-KOMEX is the leader when it comes to the construction of solar power plants in Serbia. They built the first privately owned ground-mounted solar power plant and started constructing the largest privately owned ground-mounted bifacial solar power plant in Serbia.
The conference Energy Week Western Balkans is held on the Montenegrin coast and lasts from September 6 to 8, 2022.
Energy Portal