Sun Investment Group says photovoltaic panels can prove highly effective in covering gaps in supply.
Solar power will prove an important technology in stopping power outages across Europe in coming years.
That's the verdict from Sun Investment Group, which uses the island of Tilos as an example of how effective panels can prove in covering gaps in supply.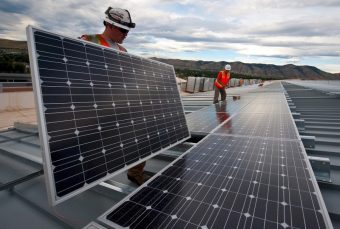 The Greek island of Tilos will soon be autonomously powered by 100% renewable energy, using an advanced battery system driven by an 800Kw wind turbine and a solar park – this will help it avoid frequent power outages, which often force the island's residents and businesses to turn to diesel-powered generators for their electricity.
Sun Investment Group's Chief Business Development Officer, Andrius Terskovas, believes solar power will become a widespread way of avoiding future power blackouts across Europe in the future, especially with experts predicting the price of lithium ion battery packs to fall below $100/kWh (£75.6/kWh) by 2025,
He said: "The decreasing prices of lithium ion batteries used to solar power farms will surely lead to the further adoption of solar energy as a way of avoiding power outages across Europe.
"As an organisation, Sun Investment Group looks forward to solar energy being used to alleviate problems that traditional energy sources still bring to many households and businesses across Europe."