Some experts say scaling down inspections is likely to lead to more consumers being infected with campylobacter.
Millions of chickens could soon be sold across the EU without being individually inspected for contamination or signs of disease after being killed, in a move some experts believe will put consumers at increased risk of food poisoning bugs.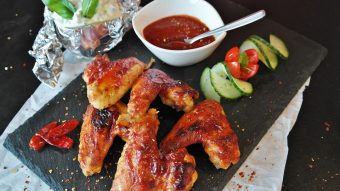 Under current rules, every poultry carcass is individually, visually checked after slaughter and before being released for public consumption. But proposals being considered by the European Commission would see slaughter plants able to look at just a "representative sample" if they have a history of complying with the standards set by official veterinarians.
EU officials argue that increased microbiological screening of poultry flocks, improved food chain information and "risk-based" interventions are now more effective in preventing contaminated or sick birds from reaching consumers than postmortem inspections of individual birds.
But meat inspection bodies and consumer groups say the individual examinations are a vital tool for detecting faecal contamination, which can contain harmful bacteria, and indications of disease. Campylobacter is Europe's biggest cause of food poisoning, with up to 9 million cases estimated to occur annually, although most are not reported. Rates of the disease – which can prove fatal – are known to be rising, with high levels found in chicken meat.
Ron Spellman, deputy secretary general of the European Association of Food and Meat Inspectors, said the EU proposals, if approved, would lead to an increase in the "already unacceptable" volume of food poisoning cases. "Poultry causes a high level of human food poisoning due to its contamination with campylobacter and, to a lesser extent, salmonella bacteria. These organisms are carried in the intestines of the birds which, during processing in the slaughterhouse, are sometimes ruptured causing the spread of visible faecal material onto the carcasses."
Professor Chris Elliott, a food safety expert who led the official inquiry into the horsemeat scandal, told the Guardian he was concerned the proposed measures "will only serve to lessen the degree of scrutiny at poultry plants and will thus mean a higher risk of meat not fit for human consumption entering the food chain. The objective is clearly to reduce costs."
But Professor Hugh Pennington, who investigated fatal E coli outbreaks in the UK, disagreed however, saying that he had "always been unconvinced that visual inspection in itself brings significant food safety benefits".
"The current inspection regime still leaves campylobacter contamination of poultry at very high levels, so what is it delivering? Big salmonella reductions were due to things like immunisation [on farms], not more inspection," he said.
The proposals follow a 2012 report from the European Food Safety Authority, which proposed that "postmortem visual inspection could be replaced by setting targets for the main hazards on the carcass, and by verification of the food business operator's hygiene management, using process hygiene criteria".
The current proposals were drawn up by the EU's Standing Committee on Plants, Animals, Food and Feed, which suggests that a "derogation" from individual inspections could be approved if meat plants "have a system in place to the satisfaction of the official veterinarian that allows the detection and the separation of birds with abnormalities, contamination or defects".
If serious problems for human or animal health are found during earlier antemortem inspections (when birds arrive at the abattoir) then all birds would still require checking, the documents state.
EU spokeswoman Anca Paduraru told the Guardian: "The main hazards in poultry are salmonella and campylobacter. These pathogens will never be detected through the inspection of carcasses, but by bacteriological analysis [sampling]. This is why additional official controls for these two pathogens are now required in the proposed revision of the meat inspection [rules] with a view to strengthening the safety of poultry meat."
She said the proposals, which are understood to be voted on later this year following a consultation, were optional and that individual countries would be left to make a decision on whether to adopt them.
Asked if it would rule out adopting the new system, the Food Standards Agency (FSA) said: "The UK will continue to comply with EU food and feed legislation while it remains a member of the EU. If any rule changes are considered after we leave, we will apply our usual rigorous risk assessment to those changes and ensure public safety remains at the heart of everything we do."
In 2015 the FSA undertook a trial involving eight poultry processing plants in which inspections of individual poultry carcasses were reduced in favour of other official controls.
Richard Griffiths, chief executive of the British Poultry Council, signalled his support for the proposals, describing them as "a positive step towards a more risk-based approach to meat inspection".
Source: The Guardian