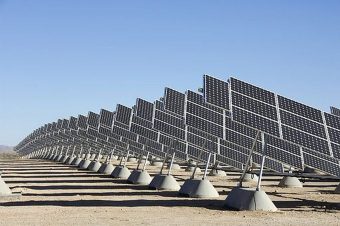 El Paso Electric customers now have access to the largest community solar grid in the state of Texas. The three-megawatt facility has 33 thousand solar panels in a 21-acre facility next to El Paso Electric's (EPE) natural gas power plant.
The community solar pilot program is subscriber based and is currently maxed out at 1,500 customers with an additional 500 customers on a waiting list. It's meant for people who are interested in using solar power but don't want or can't have panels on their homes.
"Utility community solar programs have proven to be successful around the nation as electric utilities are able to utilize cost effective utility-scale solar resources in developing customer offerings, and EPE is excited to bring this new program to our community," now-retired EL Paso Electric CEO Tom Schokley said in a statement when the company first filed for the pilot program.
The price per kilowatt is fixed at $20.96. Subscribers must receive one kilowatt but can add to their subscription in half-kilowatt increments. Solar is more expensive than traditional power but EPE representatives believe solar subscribers will save money in the long run. They said the price of solar is guaranteed and won't go up if traditional power prices rise, and the price may go down when more people subscribe; spreading maintenance costs to more people.
EPE expects the first few months of the program to be extremely successful thanks to El Paso's long, hot and sunny days. However they said there could be a drop off in the winter when the days are shorter and there are more frequent storms.
EPE filed for approval in June of 2015. They began construction in November 2016, allowed customers to enroll in March 2017, were fully subscribed in April and brought the facility online last week.
"This is actually one of the first facilities where we actually now own it. And now with our customers voluntarily being part of that program it becomes a program I think our customers will be proud to see," said Eddie Gutierrez, El Paso Electric's spokesman.
Solar fields have been challenged on their safety to wildlife. Some have been known to cook birds mid-air if they flew over the panels on a hot day. But representatives for EPE say that their facility does not reflect heat because they used a thin film that does not have the reflective properties of older solar panels.
The panels are automated and tilt to follow the sun throughout the day. The DC power they produce is sent to a converter where is comes out AC, then it's converted to the proper voltage through a transformer, through two safety checks and into the grid.
There is no contract for the program so customers can get out if they don't like it. If customers move within El Paso, they can take their solar subscription with them. The program is only for EPE's Texas customers but they are planning a solar facility for their New Mexico customers.
Source: foxnews.com