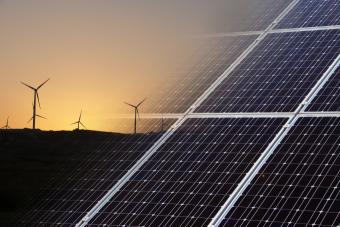 The world is still building new wind and solar farms at breakneck speed despite a slowdown in investment coming into the sector, new figures published today by REN21 reveal.
A record 161GW of new clean energy capacity was added to the grid in 2016, bumping up global capacity by nine per cent compared to 2015 figures. This was in spite of a 23 per cent fall in investment for the year, which saw $241.6bn ploughed into green energy.
The data, which appears in the Renewables 2017 Global Status Report from UN-based non-profit REN21, reveals the speed at which the cost of clean energy continues to fall. The accompanying study points out that recent deals in Denmark, Egypt, India, Mexico, Peru and the United Arab Emirates all saw renewable electricity promised for delivery at US$0.05 or less, well below the cost for fossil fuel or nuclear capacity.
Energy storage is also steadily gaining ground, with 0.8GW of new advanced energy storage capacity becoming operational last year, bringing the global capacity total for the technology to 6.4GW.
But despite the progress in new capacity deployments, there are storm clouds gathering on the horizon. Arthouros Zervos, chair of REN21, warned that more investment in grid infrastructure will be urgently needed in the coming years to eliminate the need for large, polluting baseload power.
"The world is adding more renewable power capacity each year than it adds in new capacity from all fossil fuels combined," he said in a statement. "One of the most important findings of this year's report is that holistic, systemic approaches are key and should become the rule rather than the exception. As the share of renewables grows we will need investment in infrastructure as well as a comprehensive set of tools: integrated and interconnected transmission and distribution networks, measures to balance supply and demand, sector coupling (for example the integration of power and transport networks); and deployment of a wide range of enabling technologies."
Investments rates also need to accelerate again for the world to stay on track to meet its Paris goals. In emerging countries – where it is vital clean energy deployment is sustained – investment fell 30 per cent to $116.6bn, while developed countries saw investment rates drop 14 per cent to $125bn. While falling costs mean developers get more power for each dollar, climate targets will remain out of reach without more money in the system the report stresses.
This will mean expanding investment beyond wind and solar, which once again dominated the global market accounting for 34 per cent and 47 per cent of new installs respectively. REN21 warns investment must be scaled up across less mature technologies to hit carbon reduction goals.
Source: businessgreen.com