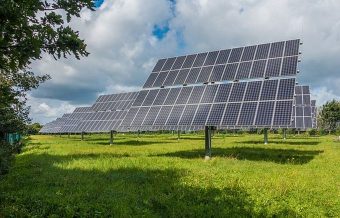 Electrical energy is not just about running refrigerators and recharging cell phones. It can also have political ramifications. Just ask the people of Armenia, who are still trying to move out of the shadow of Russia following the breakup of the Soviet Union decades ago. Armenia's electricity all comes from gas-fired generating plants, except for the aging Metsamor nuclear facility which supplies 30% of all electricity within the country. 83% of the natural gas consumed by Armenia comes from Russia, which makes it difficult for Armenia to assert independence from its powerful neighbor. Russia also supplies all the fuel for the Metsamor facility.
Armenia is a good candidate for solar power. Each square meter of the country receives an average of 1,720 kilowatt-hours of sunlight each year. That compares favorably to only 1,000 kilowatt-hours per square meter in most of Europe. Deputy Energy Minister Hayk Harutyunyan tells Agence France-Presse his country has an "Energy Road Map" to using nothing but renewable power in the future. "To ensure its energy security and independence, Armenia, like any other country, strives to diversify energy sources," he says, according to a report in South Africa's The Citizen.
The goals of the Energy Road Map are modest at present — 8% of the country's electrical needs will come from renewables by 2022, for instance. Armenia is under pressure from Europe to close the antiquated Metsamor facility immediately, but the government has decided to keep it operational until 2026, when it expects there will be enough renewable energy available to replace the power the nuclear plant provides.
"We have never had any illusion that the nuclear power plant could work forever. One day, we will have to stop it and we must be ready for this," says Harutyunyan. "That's why, during the last several years, Armenia has been stepping up efforts to develop all types of renewable energy — hydro, wind, and solar." Experts say Armenia has the potential to generate as much as 3,000 MW of electricity annually from solar — more than it currently consumes. That means Armenia could transition from being an energy importer to an energy exporter, earning the nation much needed income.
In 2006, Russia took control of Armenia's generating stations and its utility grid. Renewable energy would allow the landlocked country to move out from under the thumb of the Russians and control their own energy destiny. In late 2015, an Armenian tycoon with business interests in Russia, Samvel Karapetyan, bought out Armenia's indebted electricity distribution company from a Kremlin-controlled holding, Inter RAO. His Tashit Group is investing in solar projects and has already spent some $500,000 building a solar power plant in the mountainous tourist town of Tsaghkadzor.
Harutyunyan says a consortium of investors from 10 countries are about to begin construction of a 55 MW solar power plant. The World Bank is supporting the project with an investment of $60 million as part of its efforts to reduce greenhouse gas emissions. At the present time, three 1 MW solar installations have been completed in Armenia, with 7 more planned for 2018. The government is also sponsoring rooftop solar for many remote villages.
Energy independence would be especially helpful to Armenia, which is surrounded by not-so-friendly neighbors. It was negotiating with the European Union to join that group but Russian influence — largely as a result of having a stranglehold on its energy supply — forced the government to join the Moscow-led Collective Security Treaty Organisation, which Russia considers a counterweight to NATO. Armenia has also been a sworn enemy of Turkey on its western border for more than a century. Azerbaijan to the east also has cast covetous eyes on parts of Armenian territory.
Renewable power may be key to a resurgence of Armenia's political power — a lesson that could become increasingly important in a world being disrupted by changes in global weather patterns. "Alternative energy may not fully replace conventional energy sources, but it will help reduce Armenia's energy dependence on Russia and, as a result, weaken the Kremlin's political leverage over [the Armenian capitol of] Yerevan," says Armenian energy analyst Alexandre Avanesov.
Source: cleantechnica.com