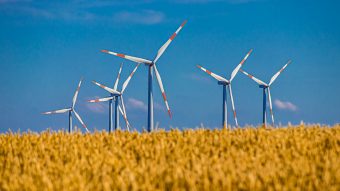 A green recovery from the COVID-19 pandemic would have helped countries to build back better while driving economic growth and job creation. But the latest Renewables 2022 Global Status Report paints a different picture. According to the report, the global energy transition the world had hoped for is simply not happening.
The rebound in economic activity we experienced led to a four per cent increase in global energy demand, which was met mainly by fossil fuels and was further compounded by the spike in energy prices following the war in Ukraine.
The greatest success for renewables in 2021 was indeed in the power sector but the report finds that we do not use enough renewables to heat and cool our homes. Meanwhile, the industry sector is the largest energy user, accounting for more than a third of global final energy demand, whilst progress in the transport sector remains slow.
We sat down with Niklas Hagelberg, Coordinator on Climate Change at the United Nations Environment Programme (UNEP), to find out more about the global energy crisis and what can be done to transition to an energy-efficient economy.
This year's report sends a clear warning that the global energy transition is not happening. What can countries, companies and other stakeholders do to speed up the transition?
Niklas Hagelberg (NH): Indeed, it is alarming that even in the energy sector, which has cost-effective solutions, we haven't yet seen a drop in emissions. To speed up the transition, every household and company needs to shift to renewable energy, thermal heating and cooling districts, and low carbon transport modes. But this cannot happen at the required speed if governments are not making it easier to rapidly install renewable energy production, secure connection to the grid and promote its use. Permitting processes must be reduced drastically. We also need direct support for the shift in heating and cooling and the energy that supports the transport sector. Lowering public transportation tariffs, as Deutsche Bahn has done for the summer months, is an example where we can avert emissions in mobility almost completely.