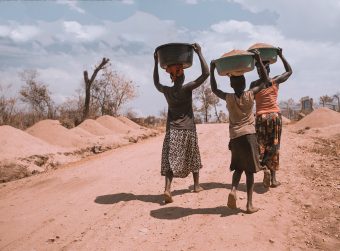 Young people across the world are struggling to find meaningful work, with over 73 million unemployed youth globally. But nowhere is this problem more acute than in rural areas of developing countries – especially in Africa.
Across the continent, just three million jobs are created each year despite 12 million young people entering the labour market annually. In 2020 one in five young people in Africa were not in employment, education, or training.
Meanwhile, a changing climate, environmental degradation and growing populations mean producing enough nutritious food has never been more challenging. This is where IFAD steps in.
A green transition 
With more than one in four workers globally employed in agriculture and African agribusinesses estimated to be valued at one trillion US dollars by 2030, the green transition promises sustainable development that conserves natural resources and creates opportunities for young people.
Through the Integrated Agribusiness Hubs programme, IFAD helps create employment opportunities for young people so they can stay connected to rural life and earn a living by growing and selling nutritious and sustainable food.
Tomilayo Hamzat is one of 5,500 people taking part in the Agrihub initiative in Nigeria. She trained at the Soilless Farm Lab, where she learned how to grow vegetables using hydroponic methods.
"When I learned about soilless farming, I thought: this is actually different from what I learned in school and what I've been taught," says Tomilayo. "This unique way of farming is one of the things that inspired me to continue in this line."
Along with training, young people are also given the tools to set up their own agribusinesses, access to financial services and mentorship. As the Agrihubs mature, they will develop into a network of support for youth-led agribusinesses.
More:
Expanding opportunities
A similar initiative is underway in neighbouring Cameroon, creating green opportunities for young people where previously there were none.
"After my degree, my friends and I searched for jobs, but many businesses weren't recruiting fresh graduates," says Lionel Patrick Ateba.
Then he came across Family Green Corp, an agribusiness that produces bio-fertilizers and ecological charcoal as climate-smart alternatives to chemical fertilizers and fossil fuels. With funding from IFAD, Family Green Corp now hosts an agribusiness hub that aims to train 75 young people each year.
Thanks to the energy and commitment of young employees, Family Green Corp is flourishing, consumers have greater access to food grown with safe fertilizers and the use of ecological charcoal is helping to limit deforestation.
As the world endures another year of climate disasters, it's clearer than ever that we need significant and effective investments in a green transition that works for all.
Agrihubs demonstrate how we can find solutions to multiple seemingly intractable problems in one go. Investing in young people to build prosperous rural economies can also unlock green jobs, feed communities and lay the foundation for a sustainable world of work.
Source: IFAD