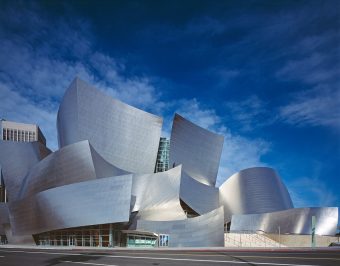 The world's most iconic skylines are going green. Nineteen city leaders from the C40 coalition signed the Net Zero Carbon Buildings Declaration on Thursday to ensure all new buildings operate with a neutral carbon footprint by 2030.
The mayors of Copenhagen, Johannesburg, London, Los Angeles, Montreal, New York City, Newburyport, Paris, Portland, San Francisco, San Jose, Santa Monica, Stockholm, Sydney, Tokyo, Toronto, Tshwane, Vancouver and Washington, DC also pledged to ensure all buildings in the cities—old or new—will meet net-zero carbon standards by 2050, according to a press release. The cities are home to 130 million people combined.
Buildings are often a city's largest source of greenhouse gas emissions due to fossil fuels being used for heat, hot water and other energy needs. About 39 percent of the total energy consumption in the U.S. comes from the residential and commercial sectors. In megacities such as London, Los Angeles and Paris, buildings account for more than 70 percent of their overall emissions. These structures are not only driving climate change, but the air pollution emitted from the buildings is also a public health concern.
Net-zero buildings, however, are incredibly energy-efficient and meet any remaining energy needs from renewable energy sources. Not only are these green buildings environmentally and socially beneficial, but they also offer economic benefits, such as cost savings on utility bills for tenants and higher property value for owners.
"Combating climate change is a moral necessity, an environmental imperative, and an economic opportunity—and Los Angeles is proud to be a leader in creating our clean energy future," said Mayor Eric Garcetti in statement. "By pledging to reduce the carbon footprint of our buildings, cities are moving us another step closer to the goals of the Paris Agreement–and the promise of lower emissions, less pollution, and more renewable energy innovation."
The pledges were made ahead of the Global Climate Action Summit in San Francisco next month and align with the Paris agreement goal of keeping global temperature rise below 1.5 degrees Celsius.
"Delivering on the commitments made today will require a united effort, as city governments do not have direct control over all the buildings in a city. This commitment includes a pledge to work together with state and regional governments and the private sector to drive this transformation, and calls on national governments for equal action," the press release stated.
As part of the commitment, the cities will develop a roadmap to reach net-zero carbon buildings as well as a suite of supporting incentives and programs. Each year, they will release a report on their progress towards meeting their targets.
"Paris is home to some of the world's most beautiful and iconic buildings. As mayors of the world's great cities we recognize our responsibility to ensure every building, whether historic or brand new, helps deliver a sustainable future for our citizens," said Anne Hidalgo, the mayor of Paris, in a statement. "With this commitment cities are getting the job done, concretely delivering on the Paris Agreement and building better cities for generations to come. One more time, the future is taking place in cities."
Source: Eco Watch