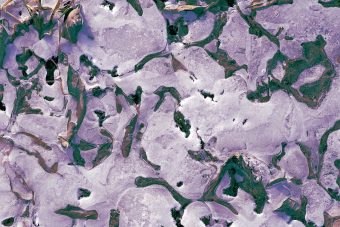 Scientists may need to more than double their assessment of how much carbon dioxide and methane thawing Arctic permafrost will release into the atmosphere this century, according to a study published this month.
The paper, published in Nature Communications Aug. 15, said that previous estimates for how greenhouse gasses released by thawing permafrost would contribute to global climate change focused on the slow thawing of permafrost near the surface.
However, those estimates excluded the impact of thermokarst lakes that form when warming soil melts ground ice, rapidly thawing the soil beneath them and providing food for carbon-dioxide and methane-releasing bacteria.
"Thermokarst lakes provide a completely different scenario. When the lakes form, they flash-thaw these permafrost areas," lead study author and University of Alaska Fairbanks (UAF) Water and Environmental Research Center associate professor Katey Walter Anthony said in a UAF press release. "Instead of centimeters of thaw, which is common for terrestrial environments, we've seen 15 meters of thaw beneath newly formed lakes in Goldstream Valley within the past 60 years."
Previous models had not incorporated thermokarst lakes because the small size of each lake made them difficult to account for. However, the study found it was important to take their emissions into consideration because, unlike the gradual thawing of permafrost soil, the rapid thawing beneath the melt lakes cannot be reversed this century.
"You can't stop the release of carbon from these lakes once they form," Walter Anthony said. "We cannot get around this source of warming."
Walter Anthony's U.S. and German research team spent 12 years observing and measuring thermokarst lakes in Alaska and Siberia and drew their conclusions from those observations, as well as from remote-sensing data of lake changes in the past two years. They found that the lakes could increase the emissions generated by permafrost by 118 percent in the late 21st century.
Other scientists responded to the study by emphasizing the limits of climate models that governments rely on to make climate policy decisions.
"The models that we've used to construct these carbon budgets, of how much CO2 we can emit and stay below a certain temperature threshold that we say is the edge of where things go from bad to really bad—those carbon budgets are probably made with models that are incomplete and may, in many ways, be very optimistic," Lawrence Berkeley National Laboratory in California climate scientist Charlie Koven told Alaska's Energy Desk Monday.
Previous models showed gradual, land-based permafrost thawing would be offset by an increase in plant growth as the Arctic warms, but the rapid thawing caused by thermokarst lakes could mean that the warming contribution of thawing permafrost will be close to that of clearing or burning forests, the study found.
Source: Eco Watch