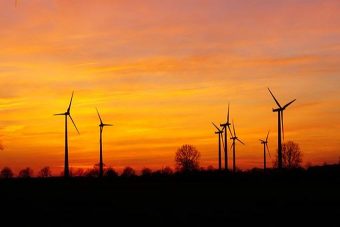 New evidence of the growing role of renewables in Britain's electricity sector emerged yesterday with the release of data highlighting record breaking performances from the wind, solar, biomass, and hydropower sectors in the first quarter of this year.
Using data from Elexon, biomass and coal energy giant Drax this week published its Electric Insights quarterly report revealing a bumper performance for clean energy during the first three months of 2017.
According to the data, British wind farms enjoyed their highest ever quarterly output, generating 11.3TWh of clean power over the quarter, an increase of 10 per cent on the same time a year earlier.
In fact, on 57 out of the 90 days in the quarter wind produced more electricity than coal, which saw its contribution plummet 30 per cent compared to last year.
Meanwhile, biomass generation hit a new high of 4.4TWh over the quarter, and solar scored its peak output in March of 7.67GW, enough electricity to power a fifth of the country at one time.
Hydropower delivered 1.6TWh of clean power over the three-month period, breaking its previous 2011 high by 20 per cent.
The news follows a slew of reports on renewables' record-breaking recent performance, including data from the Department of Business, Energy and Industrial Strategy (BEIS) detailing the staggering popularity of clean energy among the UK public.
In its research Drax also outlines how the spread of decentralised clean energy technologies is reshaping demand patterns in Britain.
For the first time ever, the last weekend of March saw daytime demand on the grid dip below the nighttime minimum, thanks to solar panels and small wind turbines meeting local demand during daylight hours.
Instead, new peaks are emerging at the beginning and end of the day, with demand net of renewables 2.3GWh higher at 9am than at 1pm during March this year. Drax believes this gap will likely double by June, based on data from previous years.
The surge in renewable generation also meant carbon emissions from electricity generation were down 10 per cent during the first quarter on a year-on-year basis. The "dirtiest hour" of electricity this winter was lower carbon than the average generation mix three years ago, Drax said.
Drax Group owns the country's largest power station, and has converted 65 per cent of its generating capacity from coal to biomass over recent years.
The firm insists biomass has a crucial role to play in delivering reliable power to support an increasingly renewables-heavy grid. However, the approach has attracted criticism from some campaign groups in recent years, who question the sustainability credentials of wood biomass and argue that it can lead to higher than expected carbon emissions. The growing UK biomass industry has been accused of fuelling deforestation in the US.
In an effort to address concerns about the impact of its biomass fuel supply chain, Drax announced earlier this week it has appointed environmental consultancy Robertsbridge to help develop and communicate its sustainability strategy.
"At Drax we only use sustainable biomass to generate renewable power," Matthew Rivers, Drax special adviser for sustainability, said in a statement. "We insist on tough screening and vetting of all our suppliers, along with independent verification. But we know that some in the political, NGO, and public arenas have concerns, and these need to be properly addressed."
He continued: "Robertsbridge will provide us with top level advice ensuring we engage in the most effective way with all our audiences helping them to better understand the leading role we play in helping to change the way energy is generated, supplied and used for a better future."
Source: businessgreen.com