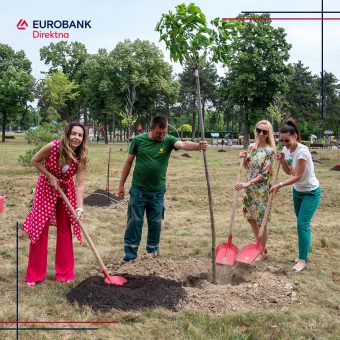 Since its inception, Eurobank Direktna has been providing continuous support to local communities where it successfully operates. It has been investing in projects and initiative in segments such as health, ecology, education, culture, and social inclusion. From 2003 to date, Eurobank Direktna has invested more than 4.8 million euros in these segments through carefully devised programs and various projects to support the community. As part of its business strategy in Serbia, the Bank focuses on projects aimed at relevant stakeholders, clients, employees, and partners. For almost 20 years, the Bank has been the pillar of trust and stability for its clients and the community where it operates.
Since 2018, with the support of the Republic of Serbia's Ministry of Education, the Bank has been implementing an independent project called "School Designed for You" to improve working and learning conditions in high schools for economics in Serbia. From every purchase that clients make with the Veliko Srce Mastercard credit card issued by Eurobank Direktna, the Bank sets aside funds from its income and directs them to equip and modernize high schools for economics throughout Serbia. In almost five years since this project of Eurobank Direktna was launched, 12 computer cabinets in ten towns in Serbia have been equipped, and more than 10 million dinars have been allocated for these purposes.
IN FOCUS:
Another fact that proves that the project "School Designed for You" not only focuses on equipping classrooms and school cabinets and donated required equipment is that, through this project, the students at these schools are also given the opportunity to acquire knowledge and lead a much richer cultural life. The Bank brings cultural events to schools in partnership with the Laguna publishing company and the House of Jevrem Grujić Museum. Through interactive lectures given by the museum curator, they learn about local culture and literature and can go on a virtual museum tour. Also, writers Vanja Bulić and Branko Rosić have had guest appearances at these schools to enhance the project further. In addition to this important project that ensures high-quality education for high school students in Serbia, Eurobank Direktna is also involved in several other activities implemented by organizations and institutions throughout Serbia.
The Green Serbia project, which the Color Media Communications Company has been realizing for the second consecutive year, is only one in a series of projects that the Bank supports. The Bank's employees participated in the planting of trees in the Ušće Park, including linden trees, Japanese cherry, and catalpa bignonioides. The project aims to facilitate environmental protection and raise awareness of the importance of planting greens and afforestation in Serbia. "Earth Hour" is a global campaign that gathers millions of people worldwide who, every year, turn off all their lights for an hour to raise awareness of the importance of preserving nature and saving energy. Eurobank Direktna has been participating in this initiative for years. From its inception, the Bank has advocated environmental protection and resource conservation and strived to reduce the negative impact on the environment. Also, the Bank's headquarters in Belgrade is in the so-called smart building, which was built in line with the latest ecological standards.
Prepared by: Nevena Đukić
Read the story in the new issue of the Energy portal Magazine RESPONSIBLE BUSINESS.