Bush fires in Australia, typhoons in the Pacific, droughts in Africa, melting glaciers in the Arctic. Climate change continues to make headlines across the globe yet many people still find it hard to understand it as many of these events are remote from their daily lives.
But every single person contributes to climate change, with the average carbon footprint of a person equaling 6 tonnes annually. One tonne is what each of us should produce if the world is to stay within the 1.5-degree climate change limit recommended by the Intergovernmental Panel on Climate Change.
That's why the UN Environment Programme (UNEP) has teamed up with Sony PlayStation platform 'Dreams' to create an immersive virtual reality experience about climate change.  The experience includes technological features that heighten the experience for viewers: three-dimensional graphics and ambisonic audio that positions sound around the user.  The experience portrays carbon footprint as an 18-meter-high orange ball of gas that leads viewers through different daily scenes including breakfast that then transforms into sea level rise.
The creators hope to challenge lack of awareness about the scale of individual emissions by allowing users to live a lifestyle compatible with limiting global warming to 1.5oC, above which the threats of climate change become increasingly devastating.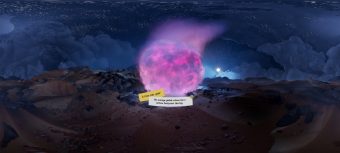 Ligia Noronha, director of the economy division at UNEP said that 2.6 billion people play games, which makes it one of the biggest communication mediums on the planet. Seeing as one in five gamers are under the age of 21 and many young people today are concerned about the issue of climate change, there is a great opportunity to spur environmental and nature-related action with gaming.
"To keep the world in a 1.5 degree safe-zone, we must take innovative approaches to tackle the barriers holding people back from understanding their role in climate change," she said. "By placing this story in a virtual reality format, we hope to memorably challenge some common misperceptions and inspire people to think differently about the choices they make each day.
Explaining the project's approach, lead illustrator Martin Nebelong said that virtual reality was the perfect storytelling medium to explain climate change. "As an artist, I wanted to design a beautiful and sometimes frightening experience that shows the true scale of our emissions and the impacts we should expect to see. This is not possible in two dimensions."
Although Virtual Reality usually requires goggles, UNEP has made it possible for those without them to still see the experience as it will be available on YouTube. The video experience will also be shared via Earth School, UNEP's collaboration with TED-Ed for students and educators currently under lockdown.
"Gaming reaches a huge audience worldwide, and has the power to bring social change," said Kieren Mayers, director of environment and technical compliance at Sony Interactive Entertainment. "Following our commitment at the September 2019 UN Climate Summit in New York, we have partnered with UNEP to explore various ways to use gaming and VR to educate and bring messages of hope – and are excited to see this video using Dreams as one of the first initiatives from this."
Why virtual reality? 
Virtual reality is the right medium to allow people to experience climate change for these reasons:
VR can let us see things in their true size. Your carbon footprint is actually huge – 6 tonnes on average and up to around 30 if you are from a developed country or have a higher income.  But seeing numbers on a screen doesn't make us feel how big these numbers are.
Captive audience. When you remove your real world and replace it with a virtual one, you are immersed in the message.  You can't check your phone, you can't look out the window.  If the artist does their job right, you are simply engrossed in the new world around you.
Sound.  When you mix immersion with the right audio, the experience creates a heightened emotional reaction.  A wildfire that is roaring.  A plane flying past.  In our video, we have gone further with 8D sound – a trick of the audio engineers to make sounds seem outside of your head.  See if it makes you look in that direction.
Magic.  Virtual reality doesn't need to be zombie games and space wars.  It can be beauty, and wonder.  By engaging artists to create virtual worlds, we harness the power of art and storytelling.
Source: UNEP