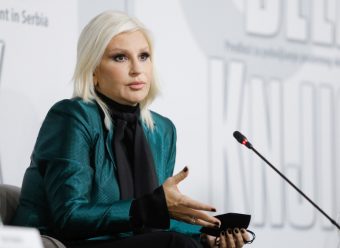 Minister of Mining and Energy, prof. Zorana Mihajlovic, Ph.D., said that in the previous two years, regardless of numerous resistances, the foundations were laid for Serbia to have enough energy and to preserve the environment, and that there will be no return to the old ways.
"It was not easy in the previous two years, we almost had a collapse of the power system, but we did many things that had not been done before. For the first time, with the support of the state, households can replace the carpentry and install solar panels, and we already have about 2.7 MW in solar panels in households that have become buyer-producers in this way. During this ministry, we created the basis for Serbia to progress in the green energy transition, not because it is fashionable, but because the whole world is moving in that direction. We have created a base and I believe that there is no going back to the old ways", Mihajlovic said in a guest appearance on TV Happy.
She emphasized that a strong energy sector rests on strong companies and that there is still a lot of work to be done in that area because currently companies are not in such a situation and the state has largely taken over to help the energy sector during the crisis.
"The reality is that we do not have enough coal, that unfortunately it is of very poor quality and we need new capacities and new sources of energy. Other countries started this process long before us and started to reduce the share of production from coal and to build large wind and solar power plants. It is a serious regret that today we have to allocate a lot of money as a state, because in the previous period we did not work well", said Mihajlovic.
Asked about the increase in the price of electricity, Mihajlovic said that this price is still the lowest in Europe, and that the increase was necessary because the prices were increased in the entire production chain.
"The price alone will not solve the problem in EPS, structural changes are needed in that company. Nobody likes to make something more expensive, but energy is a basic branch that we take care of", she said, adding that the average household's bill will increase by around 350 dinars.
Minister emphasized that next year, with the completion of the Nis-Dimitrovgrad gas pipeline, Serbia will no longer depend on only one supplier and will be connected to the LNG terminal in Greece and to gas pipelines that deliver gas from Azerbaijan and the Caspian region.
"We plan to build interconnections to other neighbors as well, because that's the only way we can be energy secure. The total value of all interconnections that need to be built is around 350 million euros, and with that we will provide around eight billion cubic meters of gas that we can get from the environment", said Minister.
Source: Ministry of Mining and Energy