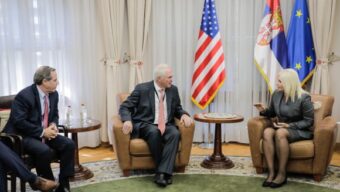 The president of the US construction giant Bechtel, Stuart Jones said, after talks with the Minister of Mining and Energy, Zorana Mihajlovic, and the US Ambassador to Belgrade, Christopher Hill, that the company is interested in "taking a closer look at the possibilities for cooperation with Serbia in in the field of energy, among other things, through the financing of the previous feasibility study for the HPP "Djerdap 3" project," announced the Government.
"I believe that there are great opportunities for cooperation in the field of energy, especially when it comes to projects in the field of renewable energy sources and the first hybrid reversible hydroelectric plant "Djerdap 3", whose total installed power could reach 2,400 MW, with another 400 MW of capacity for production of electricity from wind and sun", Minister Mihajlovic said.
According to her, energy security is currently the most important topic for all countries in Europe, including Serbia, which is why it is important to make progress in the energy transition process and be much more efficient in building new energy capacities.
Source: eKapija