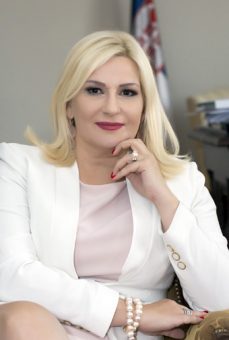 Deputy Prime Minister and Minister of Mining and Energy, prof. Zorana Mihajlovic, Ph.D said that the recommendations proposed by the Ministry to reduce the consumption of electricity and heat can provide savings of 15 percent, and that households that have a lower bill compared to the same month of the previous year will be stimulated with additional discounts.
"The state is working all the time to ensure that there are enough energy and energy sources for both the economy and households, but the question is how much money we give for that, and that's why we appeal to everyone to start saving." So, the question is not whether we will be able to produce and import, but whether we should pay such a high price for electricity? Let's try to reduce spending so that the state has more money. Many countries in Europe, in addition to punitive measures, also announce restrictions, France, which also has nuclear power plants, as announced, will certainly have restrictions. We want to fight for every household to have sufficient amounts of electricity," Mihajlovic said in a guest appearance on TV Happy.
She explained that the Ministry made recommendations, not only for households, but also for cities and municipalities, for state administration, public companies that should make their own plans to reduce consumption.
"Recommendations are not only for households, but also for the economy." The biggest consumption is in heating plants, water supply systems in EPS. All public companies should make a plan to reduce spending by 15 percent compared to last year and designate people who will control the implementation of all measures, and I hope they will be mandatory. Some local governments have already started implementing the recommendations, reducing public lighting. It won't compromise security, but it will help us give out less money. Projections say that by the end of the heating season, we will need 3.5 or 4 billion euros to have electricity, gas, and fuel oil. "Yesterday we had a meeting with mayors and presidents of municipalities and directors of heating plants, and we need to secure another 30 million euros for the fuel oil they lack," she said.
The Deputy Prime Minister requested all the media in Serbia to contribute to raising awareness about the importance of saving energy in the conditions of the energy crisis.
"Unfortunately, we waste electricity not only because it is cheap, but because we are used to it, we don't have a culture of saving electricity. EPS cannot produce enough quantities and the crisis is huge and prices change on a daily basis. Today, a megawatt-hour costs 630 euros, three days ago it cost 730, who knows what the price will be in December, and if we know that in August we spent almost 100 million euros to import electricity, why should we give half a billion during the winter. Savings are very important, and we have been talking about it for two years. And about energy efficiency, and more rational use of energy, and about solar panels. We decided to save, in addition to helping EPS to produce more energy and to reduce imports. In many European countries, there are no incentive measures, but high fines are prescribed. In France, the fine is 750 euros for shops if the doors are open and the air conditioning is on, there is talk of million fines in Spain, Italy also prescribes fines from 500 to 3,000 euros. We opted for recommendations, to say where and how it is possible to save and to help households whose bills will be lower compared to the same month last year," said Mihajlovic.
Source: Ministry of Mining and Energy