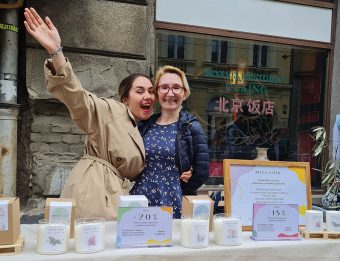 Young, skilled and creative entrepreneur Karla from Zagreb started envisioning her idea two years ago – making scented candles that will exude the specific flora and cultural heritage of Croatian cities. These are not ordinary scented candles, as every detail is clearly thought out and they tell a special story with their fragrant notes and aesthetics. When Karla and her mother Dinka Kuleš devised a plan how to bring their vision of making candles that smell like the indigenous plants from Croatian cities to life, they realized that this fusion of scents, flowers and history actually creates a real souvenir of culture.
The work on making the candles is clearly divided – Dinka is in charge of production and Karla is in charge of logistics, finance, media and social networks. Although the Croatian coastline is widely known and associated with the wonderful local scents, it was less popular towns, so to speak, like Varaždin that this imaginative female duo also focused on. The Croatian brand  miCrodia  was launched late last year because a certain period was spent on researching the production technique, as well as the spectrum of fragrances specific to a certain place.
IN FOCUS:
A candle named  Ragusa, their best-selling product, smells like the oranges grown in the city of Dubrovnik. This candle's scent is based on beautiful gardens in the old part of the city, which is home to one of the first wild orange trees, standing in the Franciscan Monastery in the Old Town. It is an incredible 2,000 years old and has often been the topic of many poems. Since Zagreb is the city where Karla and her mother live, it is also one of their favourites. If you ever frequented the main train station in Zagreb in the spring, you must have noticed pink magnolias. Moreover, in addition to Zagreb and Dubrovnik, you can now smell the scents of Osijek, Varaždin, Rovinj, Pula, Rijeka, Otočac, Zadar and Split, and each candle label features the main historical symbol of the city, be it the Zagreb Cathedral or the Arena in Pula.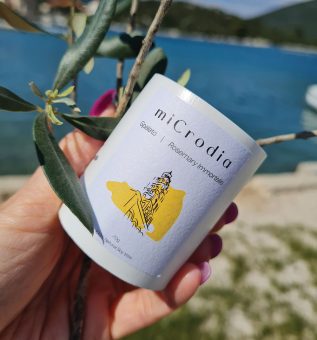 "Light music, the scents of Croatia and the sound of sizzling wax is all a person needs. Every day is a working day, sometimes we work for 12 hours if we have received a large order, but when you love what you are do, Mondays are not bad at all", Karla says.
Eco-design and natural materials as green solutions
There is another message hidden behind the materials used in the realization of this extremely interesting idea. That is eco-ceramic or, as it is popularly called, jasmonite, from which candle containers are made. This is an environmentally friendly non-toxic material created by mixing gypsum and water-based acrylic resin and contains no chemical agents. This material has become quite popular with many world designers and artists when creating decorative items. Three years ago, when eco-ceramics was first presented in London, it was declared "the material of the year" because of its incredible chameleon-like adaptability, i.e. its ability to replicate different textures and shapes, Karla explains to us. In this case, jasmonite is mixed with water to create a container that holds the scented candle.
The versatile material that Karla uses can become the future for many manufacturers. Apart from eco-ceramics, these candles have another special feature which is the cotton wick and soy wax which is used exclusively in the production. Cotton wicks are environmentally friendly and due to their structure, they can carry a flame for hours.
Prepared by: Milica Vučković
Read the story in the new issue of the Energy portal Magazine RENEWABLE ENERGY SOURCES