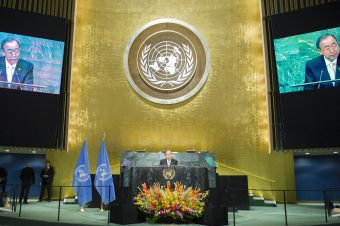 The Paris Agreement on climate change moved closer towards entering into force in 2016 as 31 more countries joined the agreement today at a special event hosted by United Nations Secretary-General Ban Ki-moon.
Several large emitting countries, which had not yet completed their domestic approval processes in time for the event, also announced they were committed to joining the agreement this year.
The Paris Agreement will enter into force 30 days after 55 countries, representing 55 per cent of global emissions, deposit their instruments of ratification, acceptance or accession with the Secretary-General.
One of the two thresholds for entry into force has now been met.  There are now 60 countries that have joined the Agreement — five more than the required 55 needed.  These countries represent 48 per cent of global emissions, just shy of the 55 per cent needed for entry into force.
In addition, 14 countries, representing 12.58 per cent of emissions, committed to joining the Agreement in 2016, virtually assuring that it will enter into force this year.
"This momentum is remarkable," Mr. Ban said.  "It can sometimes take years or even decades for a treaty to enter into force.  It is just nine months since the Paris climate conference.  This is testament to the urgency of the crisis we all face."
In early September, the world's two largest emitters, China and the United States, joined the Agreement, providing considerable impetus for other countries to quickly complete their domestic ratification or approval processes.
The Paris Agreement marked a watershed moment in taking action on climate change.  Adopted by 195 parties to the United Nations Framework Convention on Climate Change last December in Paris, the Agreement calls on countries to combat climate change and to accelerate and intensify the actions and investments needed for a sustainable low carbon future, and to adapt to the increasing impacts of climate change.
The early entry into force of the Paris Agreement would trigger the operational provisions of the Agreement and accelerate efforts to limit global temperature rise to well below 2°C, and to build climate resilience.
Even as the Agreement was adopted, countries recognized that present pledges to reduce emissions were still insufficient to reach these goals.  The Paris Agreement mandates regular meetings every five years, starting in 2018, to review progress and to consider how to strengthen the level of ambition.
Countries depositing their instruments of ratification at today's event (31) included:  Albania, Antigua and Barbuda, Argentina, Bangladesh, Belarus, Brazil, Brunei Darussalam, Dominica, Ghana, Guinea, Honduras, Iceland, Kiribati, Madagascar, Mexico, Mongolia, Morocco, Namibia, Niger, Panama, Papua New Guinea, Senegal, Singapore, Solomon Islands, Sri Lanka, Swaziland, Thailand, Tonga, Uganda, United Arab Emirates and Vanuatu.
Countries announcing their commitment to join the Agreement in 2016 included (14):  Austria, Australia, Bulgaria, Cambodia, Canada, Costa Rica, Côte d'Ivoire, France, Germany, Hungary, Kazakhstan, New Zealand, Poland and the Republic of Korea, as well as the European Union.
On 22 April this year, 175 world leaders signed the Paris Agreement, the most to ever sign a treaty on a single day.  By the end of this week, 190 will have signed the Agreement, including Armenia, Chile, Kyrgyzstan, Malawi, Republic of Moldova, Nigeria, Togo, Turkmenistan, Yemen and Zambia.
Source: un.org