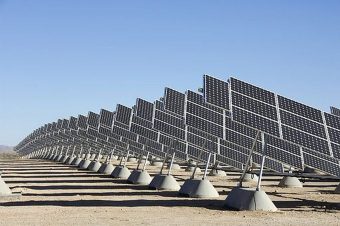 For the first time ever, US wind and solar electricity generation exceeded 10% of the monthly total in March, according to figures published by the country's Energy Information Agency this week.
The EIA published a short update on its website on Wednesday, revealing that electricity generation data from March showed that wind and solar energy together generated 10% of the month's total share of electricity, the first time this has ever happened in the country. In 2016, wind and solar accounted for 7% of the year's electricity generation, so this new record might presage bigger things to come from the US renewable energy industry.
The EIA also predicts that electricity generation from wind and solar will exceed 10% of total US electricity generation in April as well, given the time of year. Wind powered generation from states like Texas, Oklahoma, and other nearby states, experience their peak during the spring months, while Californian wind energy sees its peak happen during summer months. Considering that Texas has the country's largest amount of installed wind capacity, nearing 22 gigawatts (GW), it is therefore unsurprising that March and April would be strong months for wind energy generation.
In fact, if we look at new capacity added during the first quarter (which would not inherently have contributed to March's record generation figures), we see that Texas led the way with 724 megawatts (MW) of new wind capacity, followed by Kansas with 481 MW. The first quarter was the most successful quarter for new wind capacity additions since 2009, according to the American Wind Energy Association, and overall 908 utility-scale wind turbines totaling 2 GW were installed during the quarter.
Further, figures published in early-May revealed that wind and solar provided the majority of first quarter new generating capacity additions. Interestingly, the numbers provided by the US Federal Energy Regulatory Commission (FERC) differ from those published by the AWEA, suggesting only 1,479 MW of new wind was installed, alongside 939 MW of new solar capacity. This would suggest that, in fact, the first quarter saw close to 3 GW of new wind and solar installed.
Things get even more confusing when you integrate figures published this month by GTM Research and the US Solar Energy Industries Association (SEIA), which claim 2,044 MW of new solar PV was added in the first quarter — double the figure suggested by FERC. Given that FERC published its figures a month ago, it is possible that the reason organizations like the SEIA, GTM, and AWEA wait to publish their figures is due to the need to wait for all the information to filter in.
The story, however, regardless of which figures you subscribe to, shows that wind and solar generation is booming in the United States. While Donald Trump's Presidency has not yet had the time to impact installation figures, the industry can rest a little easier knowing that it would take a massive effort to restrict and hamper the existing momentum already in effect. The US renewable energy industry might be hampered over the next four years, but existing pipelines, combined with the existing economic argument that can be made for clean technology, are both likely to keep the industry ticking over until a more sensible Administration is installed in the White House.
Source: cleantechnica.com