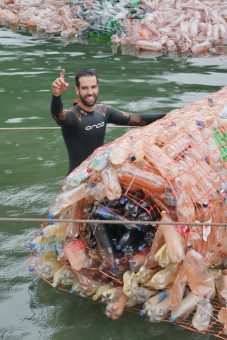 When landfills spring up on green areas, and floating waste displaces fish from rivers, instead of a beautiful landscape, we get a mockery, which can wait a long time for its clean, green-blue clothes to return. This emerging image seems to send a strong message. Although such a message is not always enough for change to take place, sometimes a glimmer of hope appears when ecology and art intertwine, creating a unique energy in this new symbiosis. Such is the art lived by muralist Andrej Josifovski, assistant professor at the Department of Architectural Technologies at the University of Belgrade's Faculty of Architecture, who is perhaps better known to the public by his nickname, The Pianist. We talked with Andrej about his artistic creations dedicated to ecology and the power of their message.
"The task of art is to refine people with its creativity, evoking beautiful and lofty feelings, thereby also highlighting all that is ugly and that needs to be changed to make the world a better and more beautiful place," says Andrej.
One of his big projects is The golden container, which, starting from the sociological aspect of poverty, draws attention to the idea that the attitude towards rubbish is a view of the world and its future. With this project, he participated, as part of the team led by architect Branko Stojanović, in the Biennale of Architecture in Venice in 2018, representing the Republic of Serbia.
IN FOCUS:
Although nature is "rich" in the waste this artist needs for his work, it is not always easy to find. His assistants give him significant support, as do organizations that deal with waste, such as EkoStar PAK and KappaStar Recycling.
Save Our Home is the result of a joint effort – Andrej made a figure of Jovan Memedović, a renowned activist in preserving a healthy environment, from plastic bottles collected along the river. Jovan was the first to draw attention to the pollution of our rivers publicly, Andrej adds.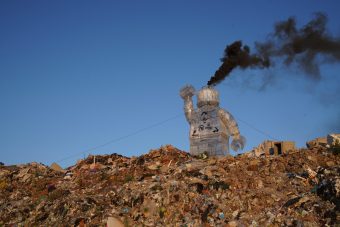 The Eko čikice project attracted the special attention of people. The inspiration for the project came from Andrej's favorite childhood pastime – stacking plastic Lego blocks.
"Plastic waste is the biggest accumulated type of waste and, as such, is the most serious threat to the planetary ecosystem, and thus to the survival of the living world on Earth. The Eko čikice game is designed to develop creativity and imagination since a new, beautiful children's world of the future comes to life by stacking uniform cubes. The beginning of the game is always a new challenge, and for the game to be repeated and to last, everything is broken down at the end, and the blocks are packed in their cardboard boxes," says Andrej.
The word "lego" is a combination of two Danish words "leg" and "godt" and means "play well". "That's how I was brought up – to play well. Children should be brought up in that spirit because the world's belongs to them," Andrej adds.
After several days of making Eko čikice, they ended up in unregulated landfills intending to spread the message that littering is not "playing well", but an ugly and dangerous habit. What is valid for children should also be valid for adults, and as long as it takes, Andrej will highlight this through his work, and he has no plans of stopping any time soon.
Prepared by: Katarina Vuinac
Read the story in the new issue of the Energy portal Magazine ENVIRONMENTAL PROTECTION