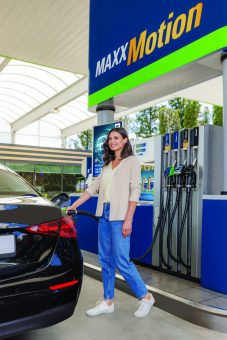 With headquarters in Belgrade and a network of 63 petrol stations throughout Serbia, OMV Serbia strives daily to spread good energy with its quality products and services, as well as by carrying out numerous socially responsible activities and sustainable business operations while climate protection and CO2 emission reduction are at the top of the company's agenda. Considering all the above, we can rightly say that the company's motto – Energy for Better Life – is completely befitting.
OMV has committed to supporting the goals of the Paris Agreement and the key climate goals set by the EU Council for 2030. The company is also committed to building a sustainable world and achieving specific climate-related goals such as net zero greenhouse gas emissions from operations by 2050 or earlier, acquiring a leadership position in the circular plastics economy (thanks to innovative solutions such as ReOil®), and at least 60 per cent of its product portfolio is low carbon or no carbon at all. The accomplishment of these goals is possible due to the increased use of crude oil for petrochemical products, a greater share of gas in the product portfolio, hydrogen solutions for mobility and industry, solutions for e-mobility and the delivery of advanced biofuels.
IN FOCUS:
Fighting for clean air
Climate protection and the reduction of CO2 emissions are at the top of OMV's agenda. OMV Serbia launches various initiatives each year to protect the climate while taking concrete steps to reduce or neutralize CO2 emissions.
One of the initiatives is long-term afforestation in which OMV Serbia employees cooperate with the public company Srbijašume. The last such campaign, whose aim was to continuously contribute to the neutralization of CO₂ emissions and the preservation of Serbia's natural abundance, was carried out in November 2022, when 2,500 black pine trees were planted on the slopes of the Rudnik Mountain.
Investing in electric chargers continues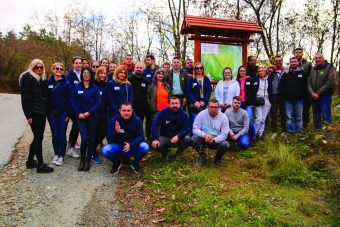 Another form of support for climate protection and lower gas emissions is to provide as many charging points for electric vehicles as possible at OMV gas stations. At the same time, in this way, the company expands its range of services by fulfilling the ever-changing needs of its consumers. The company is investing a lot of effort into providing over 2,000 chargers at OMV petrol stations across Europe, on motorways and near major cities by 2030.
So far, in cooperation with its partners, OMV Serbia has provided 11 locations for e-chargers, and it continues to expand this network this year as well. Electric chargers are available at OMV stations Lapovo Sever, Martinci 1, Doljevac, Gradina, Beška 1, Bačka Topola 1, Bubanj Potok, Novi Sad, Ruma and Kruševac, and soon at Vranje petrol station. The plan is to continue expanding and improving the e-charger network in our country.
Also, there is a fully operational solar power plant on the roof of the OMV Ražanj petrol station, which will produce 72,000 kWh of clean electricity every year and cover 23 per cent of the facility's total electricity consumption. Installation of solar panels that save energy and at the same time protect the environment is also planned at other stations, and the next in line is OMV Krnjača.
Consumers know that OMV MaxxMotion Performance fuel keeps their cars safe
The OMV Company has set new trends in the Serbian fuel market by being the first in Serbia to import and sell 100-octane fuel from its oil refinery in Austria. OMV's produ ct development and innovation department is on a constant mission to improve MaxxMotion Performance fuel. For instance, OMV MaxxMotion 100plus petrol meets the highest quality requirements of the World Fuel Charter (WWFC), category 6, which enables maximum engine efficiency and minimum exhaust gas emissions. All OMV MaxxMotion Performance fuels, with their ACTIVEFLOW™ technology, offer drivers a superior level of fuel quality, protect the engine, provide excellent protection and extend its life.
Source: OMV
Read the story in the new issue of the Energy portal Magazine ENVIRONMENTAL PROTECTION